Our Team
Founder SBJ Group is an inspirational leader with 18+ years of qualitative Sales and Marketing experience in the field of education and technology. He is a natural leader with experience in public speaking and presentation. Inspired by change, he is constantly looking out for opportunities that can help professionals & students transform their lives.
He has been working in the education domain for more than a decade overseeing different verticals like sales distribution, digital marketing, new product initiatives, and content partnerships. Before he founded his own company, he has worked in senior positions in different companies like HCL Infosystem, Hewlett Packard India, Ramco System, Microsoft Corporation India and Sophos Technologies.
He is a keynote speaker with core expertise in different marketing and sale functions like Product Management, Business Development, Key Account Management, Distribution Management, Sales Promotion, Team Management and Channel Management.
He also actively volunteers for differently-abled community welfare. He has advised several students' organizations and helped them discover their inner strengths. He trained more than 18000+ students, 1000+ Teachers & Professionals also, and 300+ Differently Abled (Divyang). His mission is to drive a wave of change, growth and personal development.
---
Mrs. Ruchi Joshi is a well-known astrologer & Vastu consultant.
She is a natural motivational & spiritual councellor and founder of Book My Kundli (World's First Hand Written Kundli Portal) and  Shuklambara Vastu & Jyotish Kendra. She is one of the best Astrologers and Vastu Consultants in India. She strongly believes that Vastu Dosha can be solved even without sabotage. Mrs Ruchi Joshi is Hand Written Kundli specialist and carrying forward her family's practice of over 100+ years.
She also actively takes initiative for Differently-abled & Women Empowerment. Her foundation also helps with child education and training.
---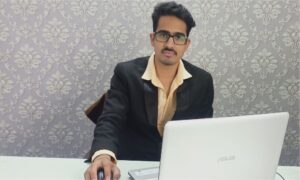 Harshal Kulkarni Co-Founder of Inventino Events Planner is a Young and Dynamic entrepreneur with qualitative experience in the field of Event Management and Corporate Social Responsibility. Running enterprise Ethically & Professionally with Passion & Perseverance.
Inventino Events Planner is a venture by SBJ Group. Inventino Events Planner conducted multiple events in the last 4+ years. We are having a rich history of successfully conducting: Corporate events, brand promotion, product launching, CME, conference/seminar, Wedding events, kitty parties, School functions and conducting a yearly program of Differently Abel child (ATRANG).
Experienced Leadership with a demonstrated history of working in the (NGO) non-profit organizations, CSR Project Management.
Heading the CSR division of SBJ Group, under his supervision skill development program of disable persons is running. 300+ Disabled people get a free internship in SBJ Jobs and training venture by SBJ Group.
---